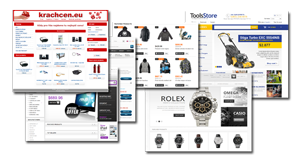 E-shops
The solution SEWMA "Online Store" will allow you in a few hours to set up and start-up online store of any subject. This product does not require further intervention by the programmer to make changes to the configuration and contents of the deployed platform, and user-friendly content management system will not leave you indifferent.
To view the demo online store, you can at shop.sewma.eu
Management Console is available at: shop.sewma.eu/en/admin/
login: demo
password: demo
E-shop allows consumers to search for goods or services with the possibility to order. It also allows to receive the orders from customers, arrange payments, provide additional product information or receive claim requests. p>
E-shop users are allowed to browse the catalogue of goods (that is in most cases divided into categories), or they can search goods by parameters or just by consensus in the produce name or description. Individual products usually have a detail page with more detailed description and a list of specific features and options.
E-shop is in the vast majority of cases implemented as a set of scripts that interact with the database in which the details of the goods (services) are stored - in fact it seeks to simplify the work of e-shop administrator as much as possible including the overview of offered goods, the modification of prices and stock levels and other related issues. p>
More sophisticated e-shops can cooperate with desktop economic, logistical, accountant or other software that is used by the company (mostly by means of data files in an agreed format).To the advanced services belong generating data files for servers that aggregate them, accepting credit card payments, electronic purse or payment system (PayPal, PaySec, MoneyBookers, ...). In the most complex online shops these advanced tools include web statistics, shopping trends and profiles of customer behaviour.
E-shop created with regard to SEO can attract the attention of potential customers looking for goods that they want to buy through internet search engines. Some (mostly smaller) e-shops provide the link exchange with other thematically similar sites, thereby mutually increasing their promotion. By doing so, the shop operators can acquire customers whom otherwise they might not have.